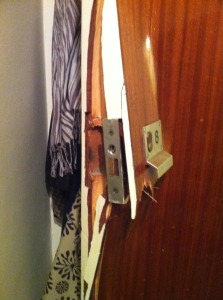 On this occasion, the burglars decided to break into a Victorian house converted into two flats. They must have rung the two door bells during the day, and when there was no reply they easily opened the main communal door as it was on an intercom system.
They then forced open 2 wooden apartment doors.
Our advice is to change your wooden door and door frame to a Titan steel security door, please go to this website www.steelsecuritydoors.co.uk for more information, and don't become a victim!!!